America's Leading Advocate for Quality Rental Housing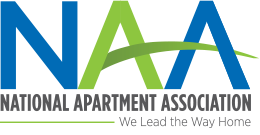 The National Apartment Association (NAA) is America's leading advocate for quality rental housing. NAA's mission is to serve the interests of multifamily housing owners, managers, developers, and suppliers and maintain a high level of professionalism in the multifamily housing industry to better serve the rental housing needs of the public.
Members in good standing of any affiliated association are automatically considered members of NAA and entitled to NAA benefits.
NAA members represent all facets of the multifamily housing industry: apartment owners, management executives, developers, builders, investors, property managers, leasing consultants, maintenance personnel, suppliers and related business professionals throughout the United States and Canada.
NAA is a federation of 150+ state and local affiliates, comprised of more than 84,000 multifamily housing companies representing more than 9.7 million apartment homes throughout the United States and Canada.
PURPOSE
NAA's purpose is to support an industry that offers safe, affordable multifamily housing to the public, equitably compensates its workforce, and provides investors with a fair and reasonable rate of return.
An overview of your benefits can be found on the NAA website at https://www.naahq.org/member-services/benefits.   Don't forget to login to access your profile and account information.  Here are the highlights:
NAA Government Affairs
Through local, state and national advocacy initiatives and grassroots mobilization, the Government Affairs Department works to shape policies, and ideas that protect your business and our industry.
NAA Education Institute
The National Apartment Association Education Institute's mission is to provide broad-based education, training and recruitment programs that are sure to maximize your company's NOI.
NAA Click & Lease
A web-based online leasing program, NAA Click & Lease helps you maximize your profit and mitigate risk while giving the support and stability for leasing success.
Industry Resources
Available to NAA members are an array of NAA products that include units Magazine, industry newsletters, website and social media designed to inform, challenge and inspire success.  Get update information on the latest industry research.
Meetings & Expositions
Throughout the year, NAA hosts numerous events that provide unparalleled networking opportunities, quality speakers, knowledge –sharing and high-level engagement, including the annual NAA Education Conference & Exposition, the largest gathering of apartment professionals in the country.
NAA Member Savings Program
With the purchasing power of 82,000 NAA members buying as one, NAA Open Door is the most rewarding cost-saving purchasing program in the apartment industry.
INFORMATION AND REPRESENTATION
NAA provides a wealth of information through advocacy, research, technology, education, and strategic partnerships. Through a joint legislative alliance with the National Multi-Housing Council, NAA protects and represents our members' interests with regard to legislative and regulatory issues at the federal government level. NAA monitors legislation and regulations in all 50 states and shares that information with your local and state affiliate staff.
EDUCATION AND TRAINING
NAA continually provides education and training opportunities for both multi-site managers and on-site staff. The NAA Education Institute offers six nationally recognized designation programs and actively promotes the apartment industry as a viable career choice.
NAA publishes the monthly units Magazine and other industry publications. In addition, NAA offers the industry's premier education conference and trade show, the NAA Education Conference & Exposition, attracting thousands of multifamily housing professionals seeking education, networking, and business opportunities.